You have probably already heard of a worktop or sink unit in resin or Solid Surface
Solid surface is a high-end material better known as Corian® from the Dupont Nemours group or Krion® from the Porcelanosa group, which are the two most recognised brands! Solid surface has properties very similar to natural stone. It is particularly well suited to wet rooms.
Among the multitude of materials that can be found, the solid surface has outstanding characteristics that can allow multiple and varied designs in all fields!
Let's start with some chemistry…
2/3 natural mineral,
1/3 acrylic resin.
A touch of colour for those who want it,
And you get Solid Surface (also called Synthetic Resin), a material that is heat resisting thermoformed, transformable and without joints.
Antibacterial (in this day and age, it is a must): It offers no chance for bacteria to proliferate.




Aesthetic and Design: Soft and silky to the touch, it allows for design lines, and blends perfectly with all types of materials such as metal or wood.

Repairable and easy to maintain: The solid surface is not moulded, so if it splinters, the repairs are easy and will look like it's new. It is stain resistant and the absence of joints prevents dirt in corners and edges.

Environmentally friendly: Solid surface is 100% recyclable !

Highly durable: This material is shock and weather resistant. It is a material that is even used for building facades.
Solid surface is homogeneous, non-porous and solid, which means that is has a composition that allows it to be easily repaired and maintained. Unlike stone such as granite or marble, synthetic resin can be shaped when heated, so it can be given new shapes and curves and unlike laminated wood, it cannot delaminate.
What does solid surface look like in its raw form?
The material is available in panels of 3, 6, 9 or 12mm thickness. The most commonly used format is 12mm with 3680 x 760 mm dimension. Panels can be of a hundred different colours and designer sinks, tubs, and baths are available in different colours.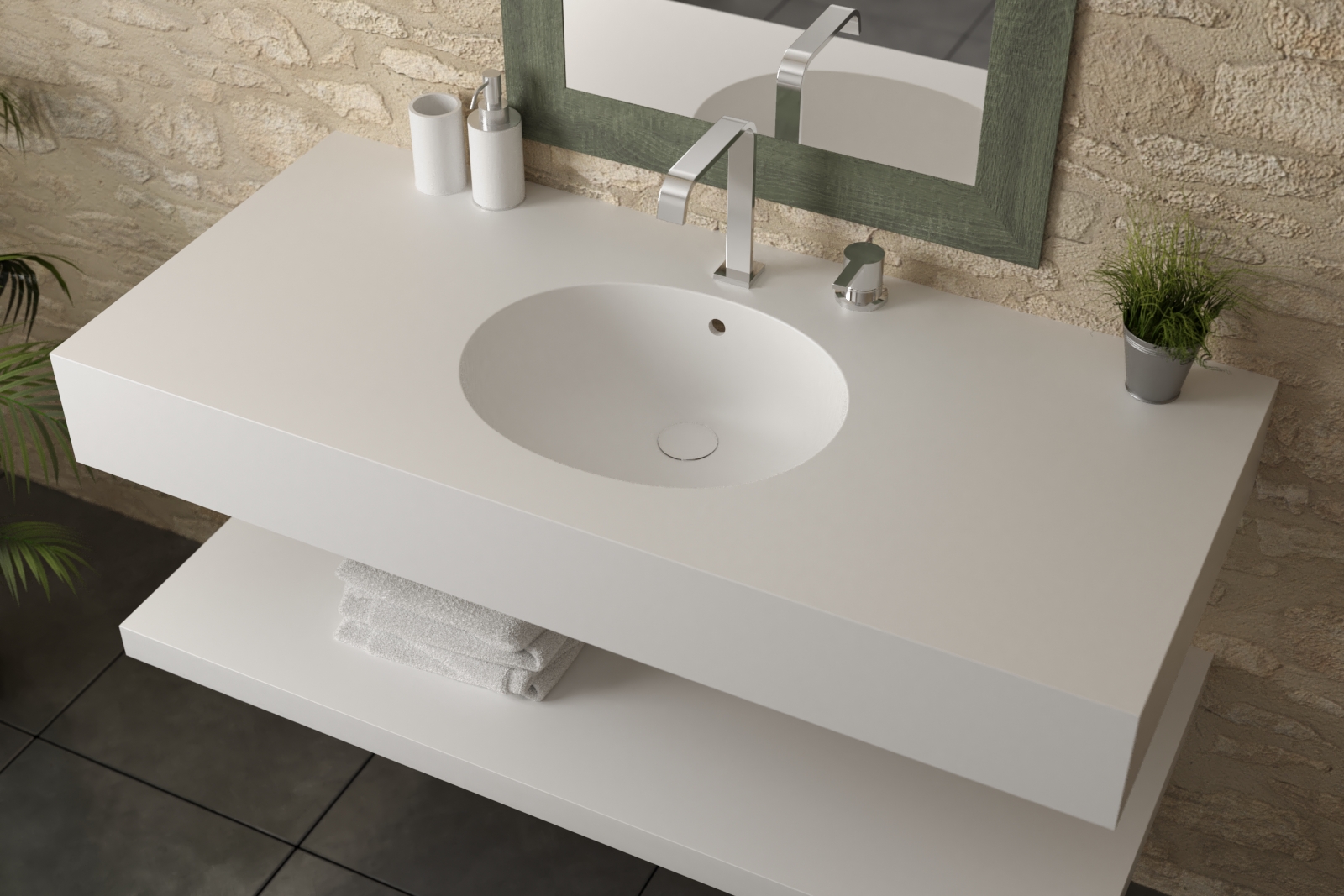 Solid surface is worked in a similar way to wood. There are trained specialists in carpentry who only work with this material today in order to become experts. They are called certified processors and have been trained by brands such as Corian® and Krion®.
These experts are specialists in solid surface and will study your projects and process the material to your wishes. Vascoplan only works with approved processors specialised in solid surface in order to provide you with the best quality solid surface sinks, bathtubs, shower trays and cupboards and to ensure that you receive a quality and responsive after-sales service. Thanks to the trustworthy partnership we have established with our processor partners, we can offer unique designer products at competitive prices.
Are there different types of solid surfaces?
Corian® and Krion® are the best known brands today. They guarantee high quality solid surface products.
Used in combination with each other for sinks, bathroom cupboards and shower trays, these materials are very solid. Both Corian® and Krion® withstand extreme conditions whatever their use, they are suitable for the most ambitious projects.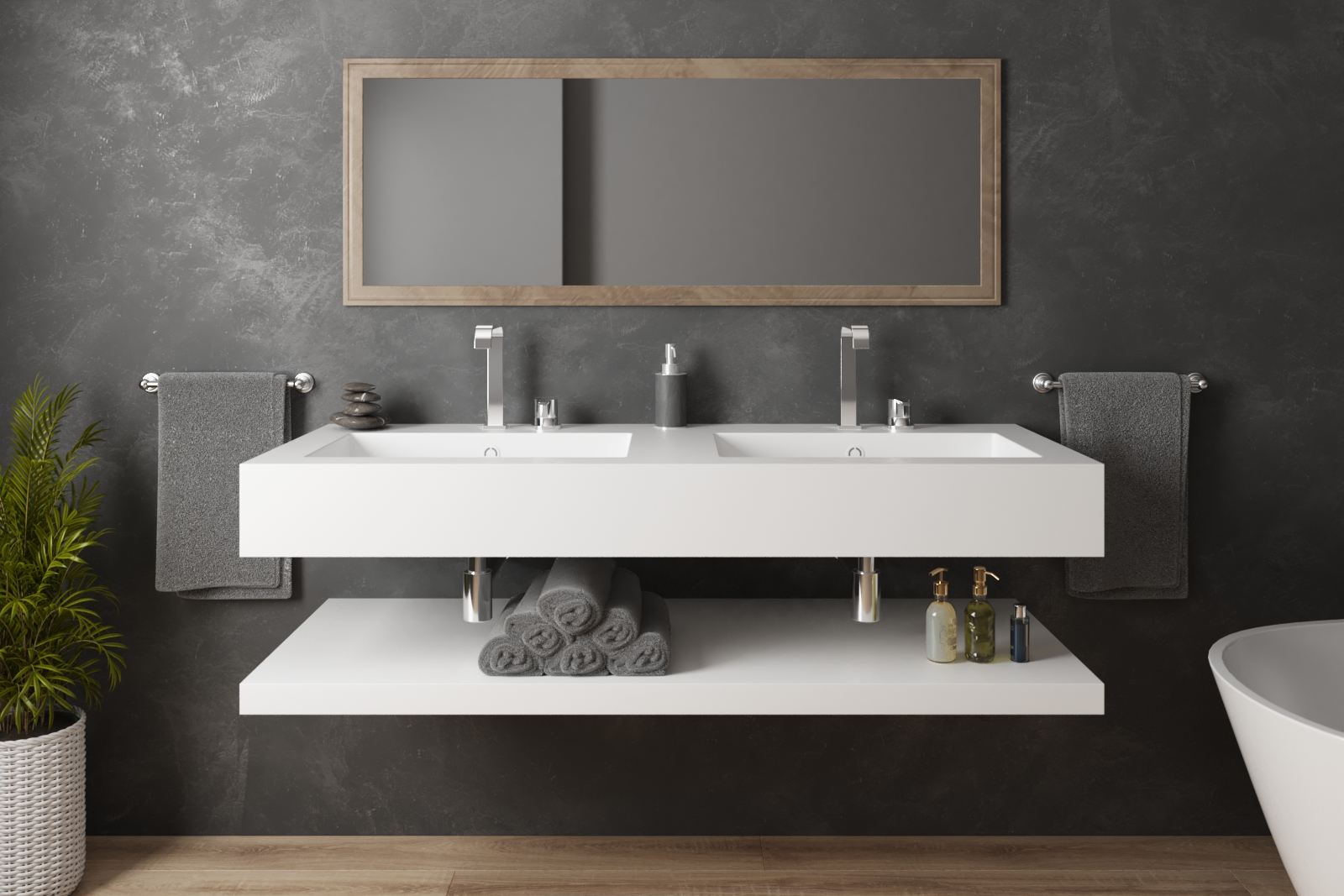 Residential: Bathtubs, sinks, shower trays, shower walls, bathroom accessories such as free-standing furnishings etc…
Healthcare: Furniture, sink units in bedrooms or toilets, baby baths, wall panels, dry and wet mats etc...
Hotels: Bar counters, sinks in bathrooms, reception desks, sinks in rooms, shower trays, table tops etc.
Fast food: counters, table tops, sinks, furniture etc...
Architecture: Designer furniture, wall cladding, screens, stairs etc.
Everyone uses Solid surface:
For several years now, large companies such as Paris airport, high-speed train bars, Paris hospitals, McDonald's, Burger King, shopping centres, the Post Office, retirement homes, hospitals, architects, interior designers, etc. Have all been using synthetic resin in order to benefit from the exceptional advantages of this high-end material.