The solid surface has taken over the world of design more than ever. But before being integrated into our homes and business places, this material, also known under the brand names Corian®, Krion®, Hi-Macs, Staron and many others, was processed by approved transformation workshops.

Initially used in hospitals and restaurants, synthetic resin is now inspiring the greatest designers and is also becoming more popular by integrating the private sphere of our interiors such as our bathrooms. A resolutely modern material which owes its success to its functionality, resistance and aestheticism. But what are the reasons for its different shapes, softness and modern appearance?
It is important to know that solid surface is very similar to wood in its processing, regardless of the brand. Corian® and Krion® can be cut, drilled, glued and distinguished with unique features such as thermoforming and invisible joints.
The raw form of the solid surface
First of all, it is important to remember that Corian® and Krion® are composed of 2/3 stone dust and 1/3 acrylic resin. Prior to processing, solid surface comes in its raw form. It comes in sheets of 3 to 12mm and 3680 by 760mm dimension. In 80% of cases, the sheets are white, but it is important to know that it is available in a hundred different colours. This allows to offer extravagant bright colours or colours that are close to natural stone such as marble, granite or pebble.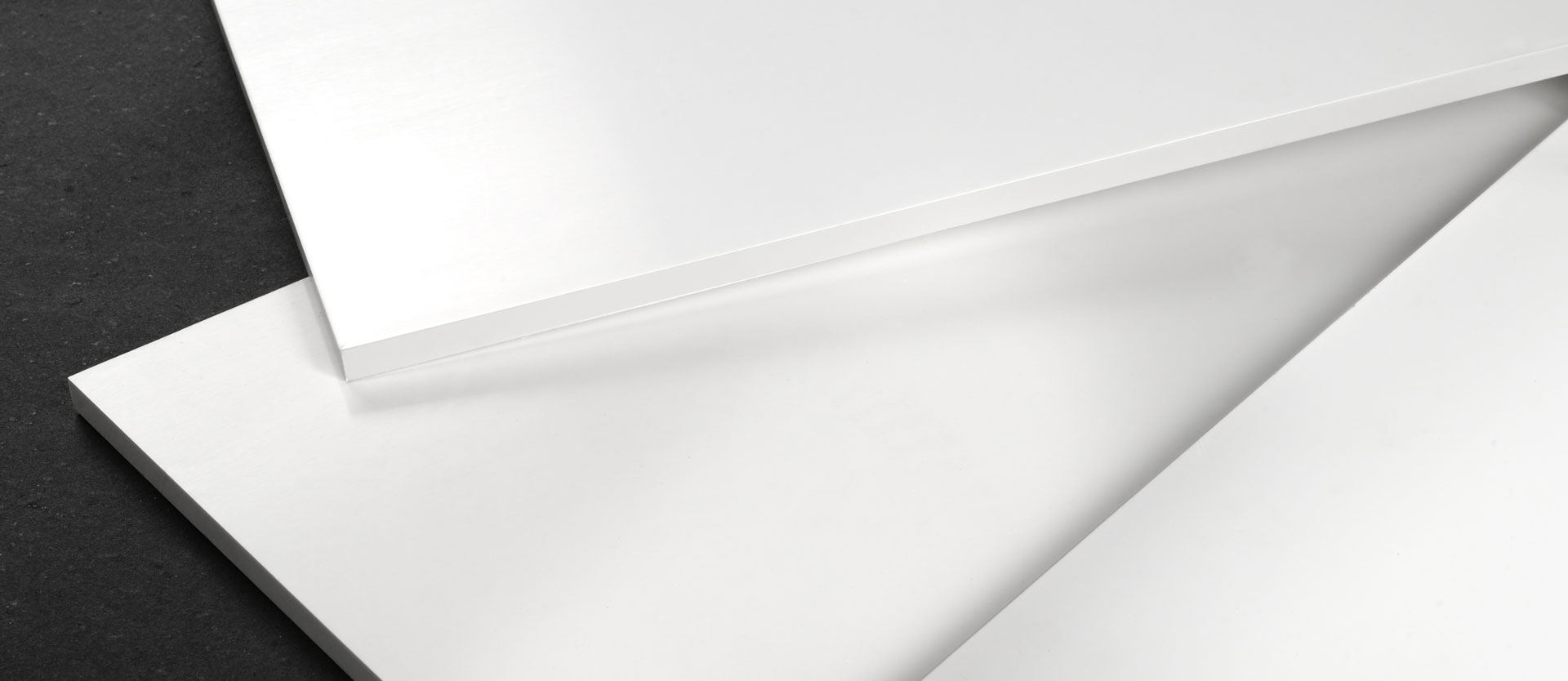 Processing of solid surface slabs
When the slabs arrive, they usually must be cut and planed to the exact dimensions and requirements of the project. There are two ways of doing this, when the cut is easy and straight, it is cut with a circular table. For cuts that require more precision and different shapes, the plates go through a computer-controlled machining centre. This means that any shape can be created by cutting or digging into the material, and the solid surface is coloured.
When the Corian® or Krion® sheet is not wide enough, it is sometimes necessary to glue several sheets together. To do this, a special liquid glue, that is made of the same material as the synthetic resin sheets, is used, which will allow the joints to be sanded without visible joints.
The glued Krion® and Corian® products are then clamped together with trestles and clamps so that the bonding does not move and is perfect.

For a sink unit, the bonding process allows the washbasin to be connected to the panel, the legs to be joined together to create self-supporting furniture or to add a credenza, all without visible joints.
Thermoforming of solid surface
With its very rigid appearance, this material is highly appreciated for its solidity, but synthetic resin is nonetheless flexible. Placed in an oven, the plates are heated at 180° for about 1 minute per millimetre of thickness (12 minutes for 12 millimetres), Corian® and Krion® can then be easily shaped.
Once the material has reached the correct temperature, it is either inserted into a mould with a backing mould or placed on a mould and plated with an air-absorbing membrane so that the material takes on the unique shape of the mould.
Sanding the solid surface
Sanding is a crucial and essential phase of solid surface processing. It requires real craftsmanship to obtain the required result! The sanding is done with sandpaper of increasingly thinner grain until it reaches a grain of 4000 with water, which will give a very shiny appearance. It is therefore possible to choose the finish of synthetic resin products, the finer the sanding grains, the brighter the appearance. Sanding will therefore be used in the future to repair your products, whether they are marked by time, stained, or broken, it will be possible to sand them again so that they go back to their original appearance. As you have seen with the transformation of Corian® and Krion, anything is possible! Solid surface can be used for all your bathroom furniture. sinks, bathtub, shower, shelves, everything is possible, in any shape and size. The exceptional characteristics of solid surface also make it possible to create kitchen worktops, designer furniture and much more.