Solid surface, known under the brand names Corian® and Krion®, is a non-porous and therefore waterproof material. This is why it is so widely used in our bathrooms today and why it is available in all possible shapes.
The star of our bathrooms
Krion® or Corian® brand Solid Surface, made of natural mineral and acrylic resin, looks very similar to natural stone with a LOT of advantages and few disadvantages.
The selection of materials for a bathroom can sometimes become a real headache. After all, the bathroom is a very humid room and humidity is a source of bacteria, cracks, water damage, etc.
The solid surface is more than appreciated and recommended for this room because it combines all the qualities required for a bathroom, such as the absence of joints which are very much appreciated by fungi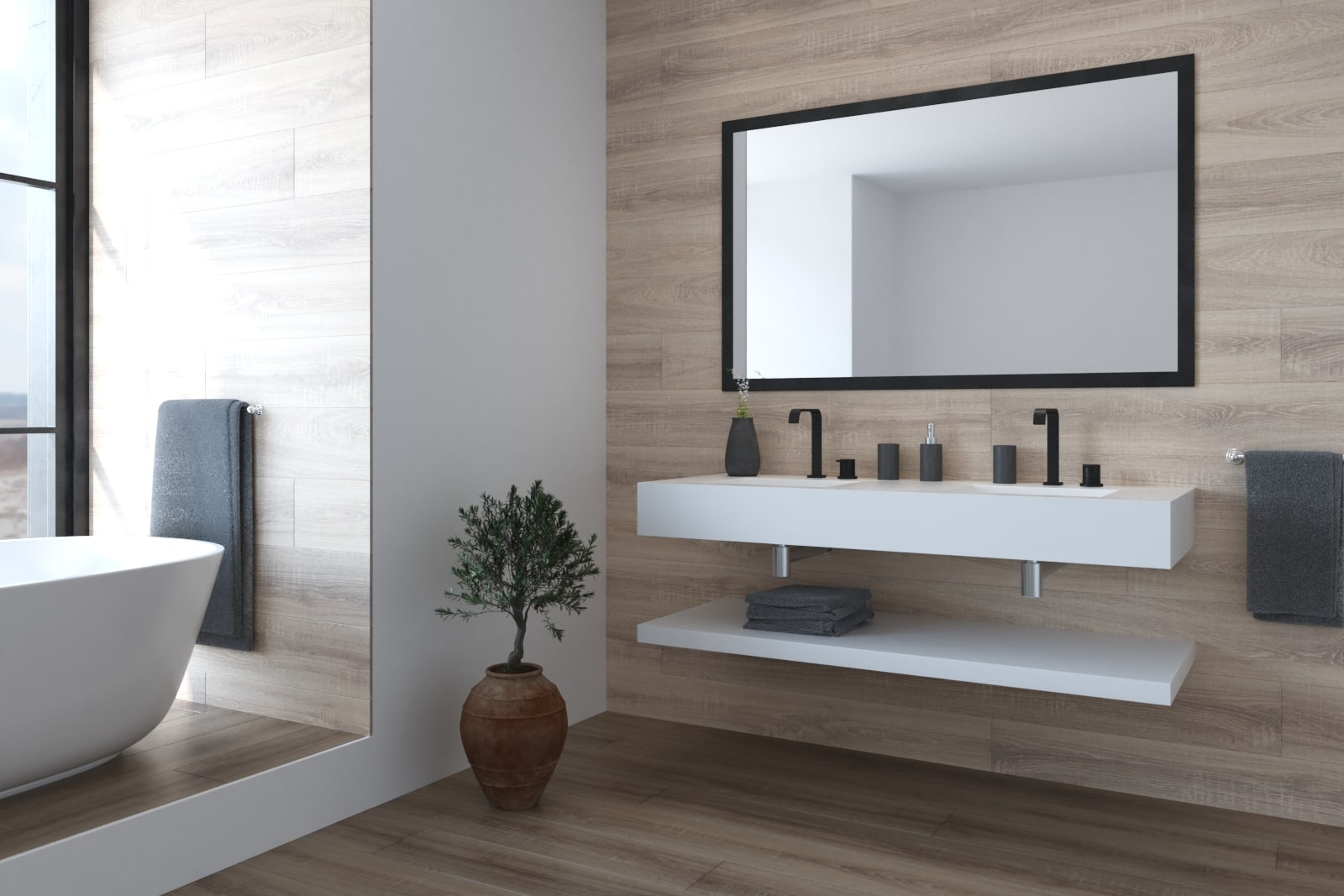 The many applications of Solid surface
Of course, it is impossible to talk about Solid surface without talking about washbasins. When it was first created, Solid surface was used to create kitchen worktops and then washbasins. This material has had no difficulty in becoming an essential part of our bathrooms.
The multiple advantages of solid surface, resistant, easy to maintain... will simplify your daily life while bringing you a unique design. Thanks to the many colours available, you have a huge choice to adapt your washbasin to your interior, discover the colours of the Krion® and Corian® ranges.
Solid surface Corian® and Krion® basins are ideal for use when you want to enhance an existing piece of furniture or countertop. They can be placed on any surface, be it wood, natural stone or metal. They will fit perfectly and will simplify your daily life. A simple sponge stroke on the basin and all traces will disappear as if by magic.
Round, oval, square or even triangular basins are all possible with Solid Surface!
The solid surface bathtub owes its success to its exceptional designs for high-end bathrooms. It offers an impeccable finish: smooth and soft with a non-porous composition that makes it resistant to stains and detergents.
In addition, the solid surface is non-slip. Indeed, when entering and leaving the bathtub, it can happen that you slip, which can be dangerous. Krion® provides this extra safety if you have children.
In addition to the Krion® and Corian® bathtub ranges, you can also have your bathtub made to measure.
Imagine a designer shower that is easy to maintain, non-slip and fits perfectly into your space. Yes, this is possible thanks to the solid surface, whether it is a shower tray or the walls of your shower.
Easy to install and very durable, choose the dimensions that perfectly match your wishes and needs.
Solid surface shower enclosures in combination with a solid surface shower tray have the special feature that they can be glued together without any visible silicone joints. It is possible to use an adhesive of the same composition that allows an invisible joint, which means no bacteria, mould or fungi.
Solid Surface is also used to make indoor and outdoor furniture. Thanks to its unique and exclusive properties, Krion® and Corian® can be transformed to create unique furniture that will blend with any other material.
The manufacturing and transformation process allows for the creation of custom-made furniture: ANYTHING IS POSSIBLE! Discover the Vascoplan furniture range now, and enhance your bathroom with unique Solid Surface furniture.
Walls and partitions
Solid surface is also used as a covering for the exterior and interior of your home. It is very resistant and design-oriented, and is becoming increasingly popular with architects. In addition, Solid surface reacts very well to all kinds of elements such as fire, extreme conditions or solar radiation, making it an ideal material for facades and exterior cladding.
Many accessories are made of Solid Surface, whether for the bathroom or any other use. Thanks to these accessories such as shelves, towel racks or toothbrush holders you will keep all your stuff at hand. Feel free to visit our accessories category to complete your living space!