A quick reminder: what is Corian®?
The story of Corian® began in 1967 in the research laboratories of DuPont, the famous American chemical company. Developed by two researchers, Corian® is a solid surface material made of a mixture of alumina trihydrate and acrylic resin.
Very popular for bathrooms and kitchens, Corian® is an alternative to natural stone, which is more fragile, or to wood, which does not age well over time. If you are interested, please read this article about the benefits of Solid surface by Vascoplan.
The success of Corian® is due to its unique characteristics which allow it to be cut, thermoformed, drilled and transformed into all possible shapes and sizes.
Today, its qualities appeal to a growing number of individuals and professionals. It has the advantage of being:
- Solid: Corian® is resistant to shocks, to contact with acids, to detergents and does not stain very much. It can also be easily repaired and sanded to look like new.
- Design: Thanks to the possibility of different finishes such as matte, satin and gloss or the hundreds of colors it offers and the absence of visible joints, Corian® can be used for limitless projects!
- Hygienic: Corian® is non-porous, so it is very easy to clean and maintain. Its material is also antigenic, which means it can be used in environments that require very strict hygiene.
Le CORIAN® : un matériau écologique
CORIAN® : an ecological material
In addition to its unique characteristics, Corian® is also environmentally friendly.
The material is popular in our bathrooms and its adhesives have extremely low levels of volatile organic compounds. VOCs are a multitude of substances, which can be of biogenic (natural) or anthropogenic (human) origin, which in direct contact are toxic substances that can damage your body. They therefore have a very small impact on the quality of the air in your living space. This quality explains why many public health institutions and the most luxurious hotels choose to use this material.
DuPont has always been very rigorous about controlling the environmental impact of its Corian® manufacturing process. To offer products that are sustainable and environmentally friendly, their material is approved by the US FDA, the US Food and Drug Administration, and the pigments used to manufacture Corian® are free of heavy metals and toxic or carcinogenic substances.
Thanks to strict working standards and the use of the most modern technologies, waste is limited, and the remaining material can be recycled and reprocessed repeatedly.
Corian® has the advantage of being ecological, durable, and aesthetic. It is therefore the ideal material for the design and manufacture of contemporary and solid bathrooms.
Luxury materials in our bathrooms
For several years now, luxury materials in our bathrooms have been changing. When buying a luxury bathroom, customers no longer prefer high-end interior design brands just for the design and the "wow" factor, but above all for the guarantee of products that last a lifetime, if treated with sufficient care and attention.
Materials such as Corian® are therefore always a source of curiosity because consumers know that it is possible to keep their products in Corian® solid surface for a lifetime and still have a unique and modern look.
More and more people are not only looking for the most beautiful bathroom, but also want to be sure that their purchase will contribute to sustainable development with its long-life span. In addition, the manufacturing process, chemical composition, and waste reduction of Corian® production will help to reduce the individual carbon footprint.
Vascoplan presents a wide range of products made with Corian®.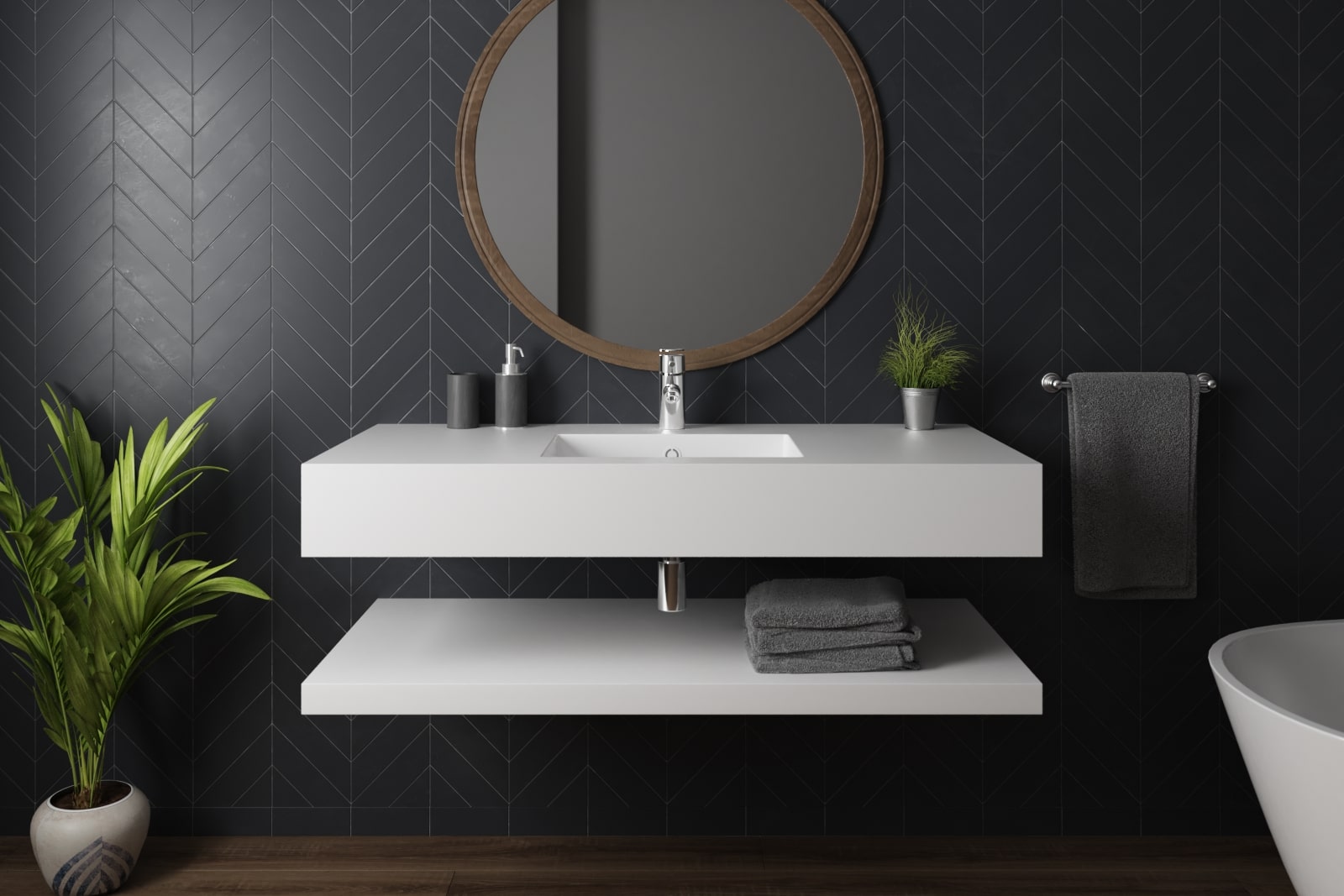 In the professional world, it is sometimes necessary to comply with environmental standards. Here are some of the certifications that allow Corian® to reach its ecological objectives:
• LEED (Leadership in Energy and Environmental Design)
• EQ credits for low-emitting materials in the Indoor Environmental Quality category
• MT credits in the Materials and Resources category for the reuse of non-structural building interiors, disclosure and optimization of building products and recycled content.
• BREEAM® CERTIFICATION
Hea 02 for indoor air quality
Mat 02 for environmental product declaration
Mat 03 for sustainable procurement
• WELL™
For v1: Air, Food, Spirit
For v2: Air, Water, Materials
• DGNB System
Tec 1.5 for easy cleaning and maintenance of surfaces
Tec 1.6 for ease of recycling, reuse, or disassembly of materials
SOC 1.2 for indoor air quality (VOC)
ENV 1.1.2.1. For the calculation of the life cycle assessment of a building
• BYGGVARU BEDÖMNINGEN
Corian® is one of the accepted materials.
• - SKA Rating
Corian® has achieved M27 Countertops in Retail v1.0 and M06 Joinery in Offices v1.2.
• Environmental Product Declaration (EPD)
Assists in obtaining product credits for LEED v4
Meets the requirements of the product category rules and complies with international standards ISO 14044, ISO 14025 and ISO 21930
• Home Innovation - NGBS Green Check
Corian® is an official partner.
• Recycled Content Certification
Some Corian® colors have been certified by this third-party organization as recycled content.