Do you want to change your bathroom sink unit because it is outdated, impractical or simply not to your taste? This guide will give you some tips and show you the many choices available.
First of all, it may seem trivial but you must adapt the bathroom to the available space and light and then select trusted sink unit brands such as Krion ® or Corian ®, quality and reliability guaranteed. Brands that Vascoplan has been working with for many years in complete confidence.
Having a list of everything that will go in the bathroom allows for a better choice of storage area, whether it's towels, hairdryers, cosmetics or razor, they are all important in the layout of your fittings and designer sink unit.
Choosing the sink unit material is the crucial choice!
For sink units, choose solid surface! This material is widely recognized for its antibacterial qualities, non-porosity and robustness. A bathroom tends to get dirty very quickly, and the daily use of your sink results in water splashes, toothpaste and all other kinds of product stains. It is also essential to choose a material that is impact or scratch resistant to avoid severe damages, and in case of accidental damage, Solid Surface can be easily repaired without incurring excessive additional costs.
Standard or Made-to-mesure
With standard sizes, there is no surprise, the price is interresting. it is easy to imagine the sink unit in its space.
In some projects, opting for a custom-made solution can be essential to enhance your bathroom. Sometimes the walls are not perfectly straight or even. And you run the risk of an unpleasant gap between the wall and the sink, or worse, of it not fitting into its slot. In this case, leave a gap on each side of the sink so that you can put your hand through to clean and make it look even all around.

If you choose a made-to-measure sink, you are guaranteed to have bathroom furnishings that are perfectly adapted to your space. Be careful to take your measurements precisely and do not hesitate to send photos of your current space.
You can customise your vanity top as you wish, whether it be the number or type of basins, the addition of an overlap, a splashback, the thickness or the colour. If you have complicated spaces to arrange, which have particular shapes, do not hesitate to turn to the custom-made products, it is the best way to save space or to realize the sink of your dreams.
It may seem obvious, but design is a crucial step in customisation. Don't hesitate to seek professional help to optimise your space and choose the right sink.
The choice is yours!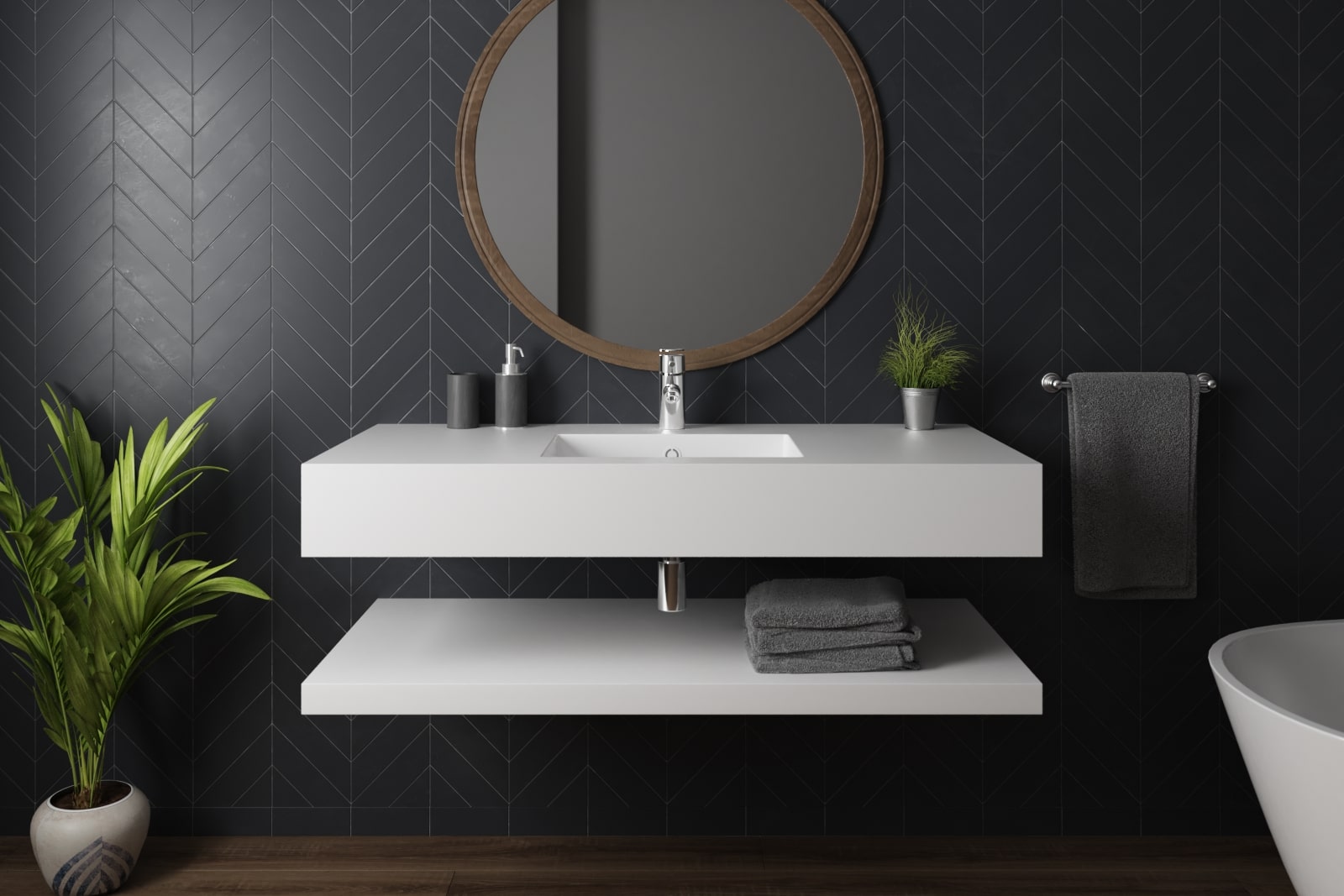 Accessories, the must-have for decoration
The primary purpose of the sink top is to provide water and to hold toiletries and personal hygiene items. It is a decorative element that must above all be functional! It is thanks to the accessories that you can bring the decorative touch you want or even enlarge your storage space.
If we could only mention one essential accessory that we all have in our bathroom: the mirror. Perfect to give the impression of space in a confined environment or to perfectly compliment your sink. To choose the perfect mirror for you, think about letting your creativity and your desires speak for themselves, and why not make a mirror that would be of similar material to your sink?
Feel free to add accessories to brighten your space, but be careful not to overdo it, as this could impact on the functionality of your bathroom.
Take your issues into account
Everyone's use of a sink is different, so have you ever thought about how you use your bathroom?

For example, someone who washes their face at the sink. They need a bowl that is both large and deep. But they will have to be careful to equip it with an overfill system to avoid any problem.
Also think about the installation, even if you don't install your own sink unit, it is necessary to be aware of the elements that will be needed so that there are no problems. You can find free-standing sinks that require special fixings or built-in sinks that fit into a specifically designed cabinet.