Today we would like to introduce you to the Krion® material which is used in the manufacture of some of our shower trays. Its composition of recycled plastic allows us to design and manufacture products of superior quality and durability.
PORCELANOSA Grupo's Krion® company wanted to use Krion® Shell™ to create a new material to produce more sustainable product ranges that can be designed for any project.
What is KRION® SHELL® made of?
It is an Enginereed Mineral Composite, a composite material made of several sustainable materials. Firstly we have a mineral called dolomite which forms the structural body of the product then the second is a resin, which is called bio resin or Eco Resina which contains recycled PET often used for the manufacture of recycled bottles. Finally we have a mineral outer layer composed of alumina trihydrate and resin which reminds us strongly of the composition of Krion®. This external composition gives it certain exceptional Krion® characteristics and confers greater durability and resistance over time.
Krion® Shell™ is composed of 5% recycled plastic. It allows you to imagine and design many products such as shower trays, washbasins or vanity tops. We mainly find it in white but Krion® wanted to propose different colours to adapt to the multitude of projects you can have. They offer us taupe, anthracite, grey or beige colours with three textures ranging from rough to avoid slipping, called Rock, to Concreto which is an in-between and Silk which is a rather smooth texture while remaining anti-slip. Two finishes are also available to adapt Krion® Shell™ products to our spaces, a matte and a glossy to bring more character and safety to every room in your home thanks to their high anti-slip values.
The shower trays offered by Vascoplan from the Krion® Shell™ RAS, Line and Slope series are available in white with a standard size. You can then choose from a range of colours and sizes to fit any shower tray to your bathroom. The Krion® Shell™ has a great feature, you can indeed come and cut the material easily in order to adapt and create your custom shower tray according to your needs. The versatility of each of its models offers you the possibility to design your bathroom as you wish to make it more spacious and brighter.
The various models of sustainable Krion® Shell™ shower trays stand out thanks to their versatility and modernity, while bringing hygiene and safety to your bathroom. But it is its eco-friendly nature that makes it unique and differentiates it by the possibility of creating sustainable and infinitely customisable spaces.
Take the Slope 150 x 90 cm shower tray for example. It contains the equivalent amount of recycled PET as 380 plastic bottles. In addition, this shower tray will provide you with a number of properties such as noise absorption to make your environment quieter and more peaceful.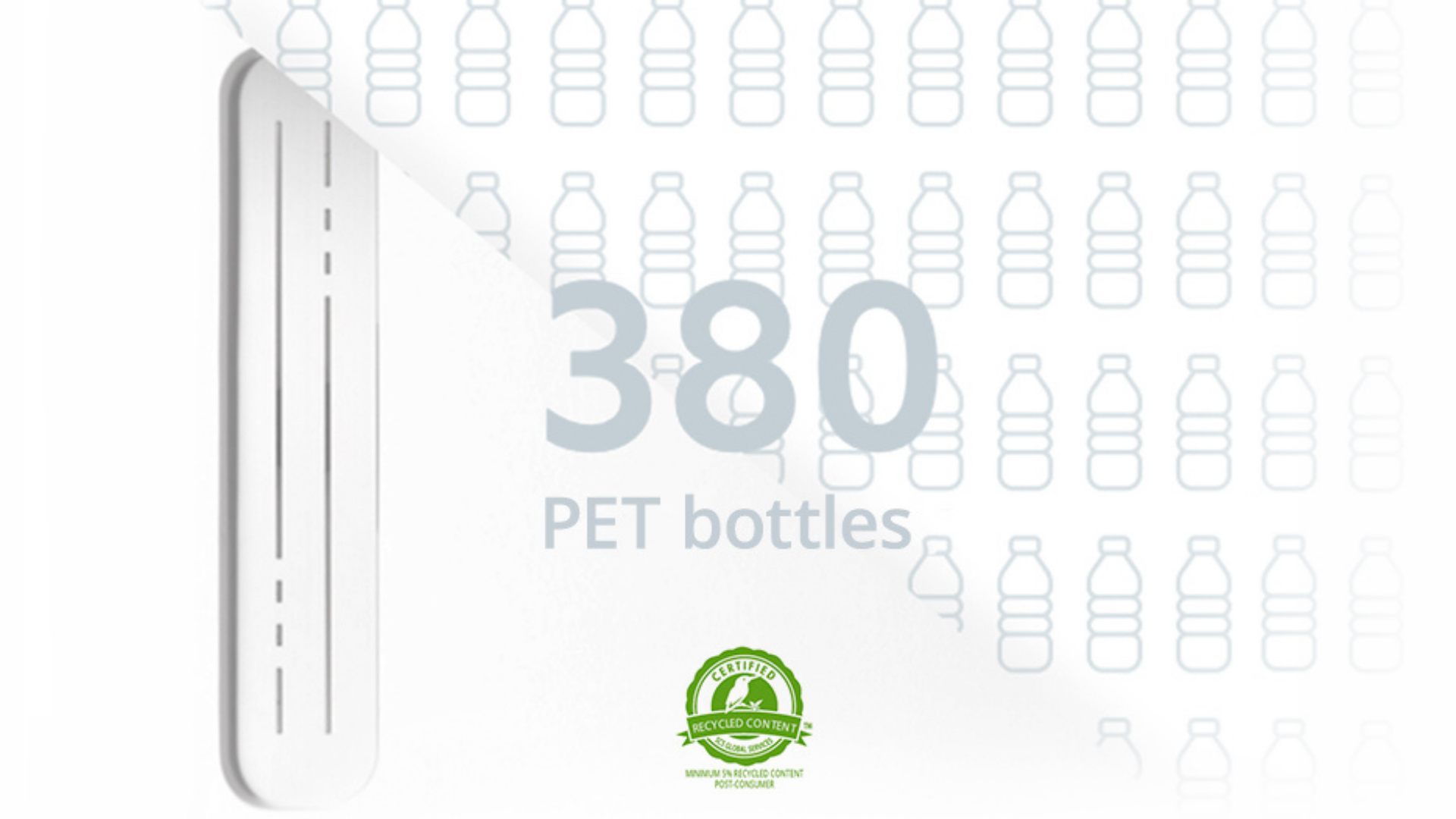 Improving the lives of everyone
Krion® Shell™'s commitment to the environment and its desire to improve the quality of life for everyone, has made it a reliable and sustainable product, backed by numerous certifications.
Among the certifications obtained by Krion® Shell™ material, we can highlight the certification of SCS Global Service, a leading independent North American entity in environmental certifications, which verifies and guarantees that all Krion® Shell™ certified products contain in their total composition a minimum of 5% of recycled plastic, betting on a more sustainable and environmentally friendly production.
Finally, we would like to highlight other safety certifications held by Krion® Shell™ :
The Greenguard certificate guarantees that Krion® Shell™ meets air quality standards and therefore does not pollute the indoor air in your home.
Thanks to a certificate issued by an external laboratory Krion® Shell is certified as complying with the REACH regulation which regulates chemicals that are manufactured or included as substances in mixtures and finished products on the EU market. Its main objective is to ensure a high level of protection for human health and the environment.
The CE mark indicates that all Krion® Shell™ products comply with the quality and safety criteria required by the European Union, supported by Directive 93/68/EEC and regulated by the applicable standards for each product.
The CSA Mark awarded by CSA Group (Canadian Standards Association), indicates that the product has been independently tested and certified to meet the quality and safety standards required in the United States and Canada in accordance with CSA B45.5/ IAPMO Z124 and IAPMO/ANSI Z124.8.
The CUPC mark, awarded by IAPMO (International Association of Plumbing and Mechanical Officials), indicates that the product has been independently tested and certified to meet the quality and safety standards required in the United States and Canada in accordance with CSA B45.5/ IAPMO Z124 and IAPMO/ANSI Z124.8.